On Feb. 25, Remy released "Shether," in which she accused Minaj of everything from plastic surgery to infidelity. The rappers' feud dates back to 2007, when Minaj called out Ma on "Dirty Money." In the song, she rapped, "Tell that bitch with the crown to run it like Chris Brown," while sampling one of Terror Squad songs, "Yeah Yeah Yeah." In 2015, less than a year after Ma was released from prison, she free-styled over Minaj's "Truffle Butter." Ma's "Shether" was released in response to Minaj's "Make Love" and "Swalla" lyrics, which were aimed at her rival.
Minaj responded Thursday by releasing three diss tracks of her own.
The 34-year-old rapper recruited her Big 3 partners Drake and Lil Wayne for "No Frauds," in which she mocked her 36-year-old enemy's follow-up single. "You can't be Pablo if your work ain't sellin' / What the fuck is this bitch inhalin'? / I would've helped you out that pit you fell in / I am the generous Queen! Ask Ms. Ellen / Tried to drop 'Another One,' you was itchin' to scrap / You exposed your ghostwriter, now you wish it was scrapped," she raps. "Heard your pussy on 'Yuck,' I guess you needed a Pap / What type of bum bitch shoot a friend over a rack? / What type of mother leave her one son over a stack? / Lil Boogie down basic bitch thinkin' she back / Back to back, oh you mean, back to wack? / 'Back to Back'? Me and Drizzy laughed at that."
Minaj also released "Regret in Your Tears" (about ex Meek Mill) and "Changed It," which features Wayne.Days ago, Ma told Another Round she was "not particularly proud" of their beef. "I do not condone or recommend the tearing down of another female. That's not what I do," she said. "Anybody that knows me knows that I embrace females. I always want to do some girl-oriented thing. I think we work so much better when we work together and when we help each other."Ma added that she's always "happy" to see someone who came "from the bottom" and "managed to make something of yourself," just as she once did. "It just makes me all mushy inside. However, in the event that you piss me off and we become archenemies, run for cover."
After Minaj dropped her diss tracks, she shared a message for Ma on social media, writing, "#YoungMoneyTilTheDeathOfMe committing perjury #IGotB4andafterPicturesOfYourSurgery #StopSurgeryShamingB4IPostThem #Fraud diss records can't be lies. Great diss records are FACTS. But here @ Young Money, we don't do diss records, we drop HIT RECORDS & diss u ON them. I got a bunch more on cock. Pauz. The greats took 3months to respond to diss records. Queens don't move on peasant time. Queens shut down Paris, then drop hits on #QueenTime."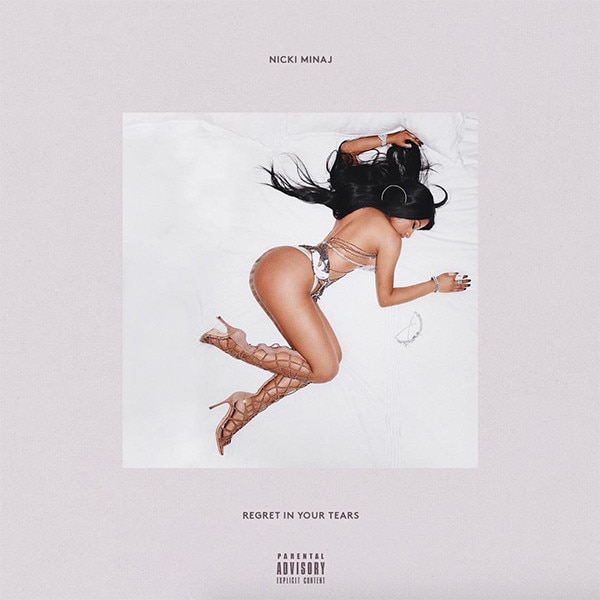 "I love my fans. Y'all the real MVP's. Been writing my own raps since I was 11. GOD knows. Next week I'll beat Aretha [Franklin] for the most Hot 100 hits on billboard by ANY woman in the world EVER in the history of music. Stay in your bum ass place. Jealousy gets u no where," the hit maker told Ma. "Love to all my bad btchs. Now I got a countdown of my own for Sheneneh. U got 72 hours to drop a hit and I'll give u half a million dollars if you can book ANY show or interview w/o mentioning the Queen name. On another note, my album is nothing but waves. Lol my babies, you're gonna get your complete LIFE. love u guys so fkn much. Let's go."
"#NoFrauds #ChangedIt #RegretInYours Reggie Martin and S/O to Lady Luck for spkn facts," Minaj wrote. "They act like they didn't see her interview tho. Lol."Minaj also shared her thoughts on "Regret in Your Tears." As she told her 75.7 million Instagram followers, "This just became my favorite song of all time. We been drinking pina coladas listening to it non stop GETTING LIFE!!!!!!! #RegretInYourTears @candiworld @justinepeacock dedicated to all the bad ass, intelligent, strong, loyal women out there. When a man loses us, he loses so much more. Love YOURSELF! You're worth being treated like the QUEEN u are. Never forget that. They gotta APPRECIATE your magic. Or get the steppin. With Love."Just no love for Ma.
Related articles